In the world of business marketing, it is important to try a range of strategies to target various consumers and mediums. SMS broadcasting messages are an efficient way to send communication to all of your subscribers, or specific subscribers, at once.
This means you can easily send text messages in bulk to large groups avoiding the time and potential human errors involved in sending mass texts manually. There will also be no missed contact opportunities from skipping a number.
In other words, with Stright2Voicemail, you only pay for the SMS broadcasting messages that get delivered!
The competitive world of marketing requires small and large business owners to diversify their communication channels. However, you also have a marketing budget to keep in mind. This is where the cost-efficiency of SMS broadcast services can be of significant help.
Read on to learn more about how an SMS broadcast service can help your company to reach thousands of people at once.
Main reasons why SMS broadcasting is Powerful
The average smartphone owner spends on average, four hours on their phone daily. As an owner of a business or someone who provides services, why wouldn't you leverage the medium that your target customer uses the most?
90% of text messages are read in the first three minutes of delivery.
SMS performs better than email, period.
According to a survey of over 6,000 consumers, 85% expressed a desire to receive text messages from brands they were interested in.
One report revealed that 80% of early millennials, 80% of later millennials, and 75% of Gen X researched milestone purchases like their first car or home on their smartphone
Over 85% of people have made some type of purchase on their smartphone.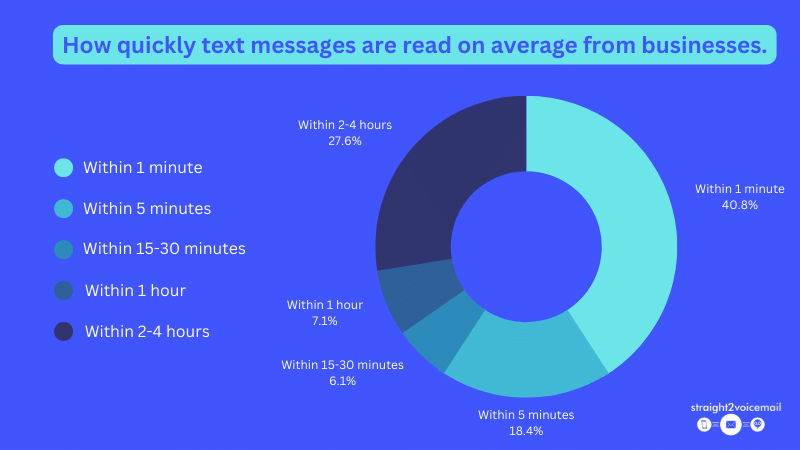 How SMS broadcasting service works
The ability to send out mass texts is made easy with an SMS broadcast service as it allows you to upload contacts into the software and then create your desired message to send. From there, the SMS broadcast messages (which can also be scheduled for the desired time) are sent to every contact in your list.
The SMS can also include a shortcode to link the receiver to information or promotional offers. This makes it efficient and easy to enroll new customers in a contact list or similar set-up.
With help from an expert team like Straight2voicemail, this can be a very easy system to set up and use on an ongoing basis for your new and existing customer contact requirements.
How your business can use SMS broadcasts
SMS broadcast software allows any offer or communication to be sent easily in mass volume. Be it to existing customers or to entice new ones, SMS broadcast software has a range of benefits and advantages, such as:
A reliable method for sending important information to a contact list
Little-to-no human error as the process is managed by software
Access to SMS, which has a high open rate to improve conversions with coupons, promotions, and more
SMS shortcodes and promotional announcements can drive revenue and more interest in products and services
SMS broadcast services can deliver messages via phone, text, e-mail, and more, something which can also be decided based on the recipient's preferences.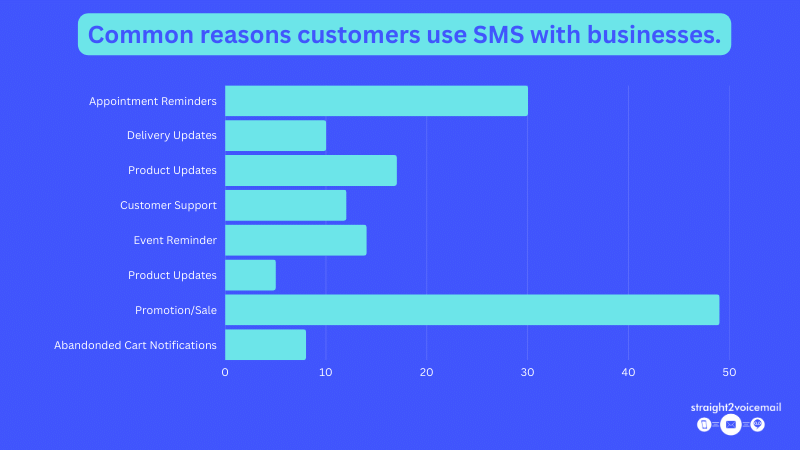 Various SMS broadcast options
The following mediums can be utilized to ensure a full scope of contact for businesses with their consumers. They can include:
Telephone Messages – Voicemail Drops
Record a message using your own voice, or type a message that can be converted to a recording using text-to-speech applications. This is a cost-effective way to send a message.
Text Messages – SMS Broadcasts
Text messages sent via short message service (SMS) will travel from a computer to multiple mobile phones. The sender simply types a message into a web interface which also stores and routes messages. Text messages usually have a maximum limit of 160 characters, and an opt-out option for the sender receiving the messages is also often included.
Why SMS broadcast should be a part of your marketing strategy
There are many reasons why a business should have constant changes in its marketing strategy. Ineffective strategies can be due to stagnant communication efforts or improperly identifying a target audience.
Small companies, in particular, must constantly change their marketing strategies to ensure maximum reach, and SMS broadcast is a new channel for you to explore.
Consumer tastes are constantly changing, and marketing needs to move with this to keep people's attention. Many small companies conduct marketing research to understand what their consumers need and want.
Many audiences seek novelty and the more business sticks to the same forms of communication; the less their customer-base will take notice over time.
As a result, it is nearly impossible for small business owners to stay complacent when it comes to marketing and advertising.
What happens if your competitor initiates a marketing strategy that challenges your position in the marketplace? Be proactive, and act to ensure you hold people's interest. Change your distribution channels to create competitive strategies and enjoy continued success.
SMS broadcast is one channel in the scope of many that will target those who do not spend a lot of time on search engines or social media. As your competitors focus on these highly competitive areas, you can reach a captive audience instantly with a well-crafted message that creates quality lead generation.
Making the most of SMS broadcasting with the experts at Straight2Voicemail
If you are ready to add another layer to your marketing strategy that will require low effort while providing maximum results, speak to the experts at Straight2Voicemail today.
We are a dedicated team of professionals based in Sydney, Australia that aims to help you grow your business with our advanced Voicemail, SMS, and MMS placement technology.
This specialized marketing solution can bridge the gap between digital media and personalized conversation and is an innovative way to connect with both current and potential clients.
Place your message directly in the pockets and palms of thousands of people efficiently. Straight2Voicemail is the next step in your marketing campaign strategy, so let's chat and get started with your company today.
SMS Broadcasting FAQ
Can you send a broadcast text message?
Yes! you can send a text message to many people from one source. But it is not a group text. People will receive the message individually. This is one of the most efficient ways for businesses to stay in touch with all your customers. It can also help you in promoting your brand more effectively.
What are the advantages of using SMS broadcasting for Marketing?
With the help of a reliable app or software tool, you can send broadcasting SMS or bulk SMS to your target audiences or existing customers. Some of the benefits of this are:
– DIRECT COMMUNICATION WITH CUSTOMERS
You can have direct communication with your customers via SMS. This is an immediate way to communicate and let them know about the products or services that you are promoting. You can also let them know about offers and discounts too.
– EFFICIENT AND COST-EFFECTIVE
It is a cost-effective and efficient way of marketing because sending SMSes in bulk is a cheaper way to communicate. With a very low investment, you can connect with many customers at a time.
– HIGHER OPEN RATES
The rate of opening the messages is quite high. According to the latest report, about 98% (on average) of people open and read the SMS sent to them from any brand or business. It is much more in comparison to other ways of communication.
– ABILITY TO TARGET SPECIFIC CUSTOMER GROUPS
With the help of an SMS broadcast software tool, you can target a specific group of customers for promotion and advertisements. Thus, you will get to target specific customers individually as per your needs and requirements.
– INCREASED RESPONSE AND ENGAGEMENT RATES
Also, this way of communication has shown better rates of engagement as well as an increased amount of responses. Thus, it gets easier to communicate and talk with customers via SMS.
SMS BROADCAST BEST PRACTICES
SMS broadcasting is one of the most amazing ways of marketing and it has become quite a popular channel for promotion. If you want to use this channel for promoting your business, then you need to know about the best practices that can help. Here are those 5 best practices:
– Obtain consent from customers
You need to get consent from the customers before you send any message from your side to them. You can take consent either through paper or digitally. Whenever you ask for the customers to provide their phone numbers, you can ask for their consent if they will like to get messages from you or not.
– Keep messages short and precise
Another important thing that you need to practice is that you have to keep the message precise and short. No one likes to read long and complicated text messages. Hence, keep it short as well as to the point related to the topic. Do not beat around the bushes.
– Personalized messages
Whenever you are sending bulk SMS, you need to personalize the message for your customers individually. This can help them to connect at a more personal level. Instead of ??Hello customer', if you mention the name like ??Hello Anna', it will have a better impact.
– Frequency and timing of messages
The timing as well as the frequency of the messages plays a vital role. No one likes to get a message from a brand or business at an odd time. Avoid early-morning messages or late-night messages. Keep it within business hours. Also, you need to make sure that frequency of the message should not be too much. Anyone can get irritated if you keep on sending messages every day. Keep it once or twice a week only.
– Call to action in messages
Always keep a call to action in your messages. This can help your customers to feel the need to take the action. Some of the most popular call-to-action phrases are – "Shop now
"Visit today" or "Grab this offer!!" etc. You can also add something like ??Do not miss the chance' or ?? Last time on sale' can make people more aware.
Implementing SMS Broadcasting Into Your Marketing
Now that you know everything about SMS marketing, you can implement that for your business to get some quality leads and attract more customers. But to implement this, you need to integrate SMS marketing with existing marketing channels. Also, you have to comply with the local laws and regulations to keep everything fair and completely legal. In addition to all these, you have to implement a service that can test and measure your success too.
Conclusion
Though many businesses tend to ignore SMS marketing, it can add a huge value to your overall marketing strategies. As you know now, SMS broadcast comes with a lot of benefits, such as cost-effectiveness, better quality leads, more success rate, etc. With all these amazing benefits, you can enjoy the services to the fullest. It can have a very positive impact on your overall business. No matter what the size of your business is, make sure to implement SMS marketing for promotion and advertisements. You will get impressive results from this.
Get 10 Free Text Message & Voicemail Drop Credits
Sign up to start your first text message or voicemail drop campaign and get 10 free credits on us!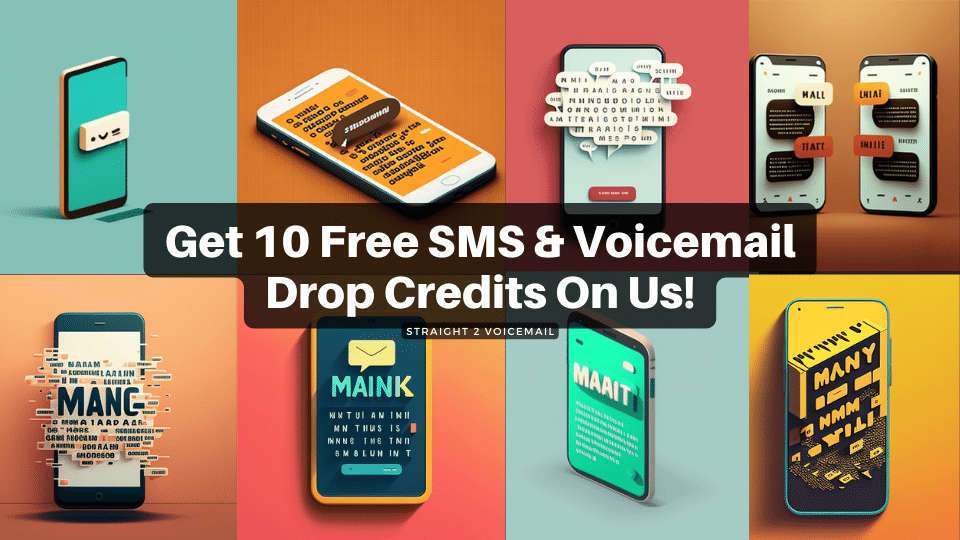 Have Questions?
On the fence about text message and voicemail drop marketing? Check out our FAQ page here.
Follow Us