Nonprofit organizations are often at a disadvantage when communicating with their supporters. Their communications are often the same as the company they are trying to help. This can be an issue regarding fundraising and building brand awareness. The nonprofit sector has a lot of resources at its disposal, but there is no better way to increase awareness than using the tools and platforms that your supporters and customers use. Here are the Top 5 Reasons Non-Profits Should Be Doing Text Message & Voicemail Broadcasting.
1. Build Better Relationships
Nonprofits can use text messaging to build better relationships with their donors. Non-Profit Networking thrives on donor relationships and is one of the most important sources of financial support. But some nonprofits have so much data on their donors that they don't know what to do with it.
Text messaging is a great way for nonprofits to get more in touch with their donors, especially when running campaigns requiring donors to act quickly. Text campaigns can be as simple as sending out a text message encouraging someone to donate or sharing information about an upcoming event in their area.
Many non-profit coordinators have been leveraging Straight 2 Voicemails' powerful SMS and Voicemail broadcasting features. You can signup and earn 10 free credits on us!
Because texting is one of the most popular ways people communicate with friends and family outside of email, non-profits should focus on ensuring their texts have high open rates. Hence, they have the best chance of reaching recipients who are potential donors or event attendes. Building better relationships with those that will support you is the key to success in any business. It keeps them coming back, and it's how you grow your business. A great way to get started on building better relationships with your supporters is through text message marketing.
It provides you with a wide range of benefits, including:
Increased customer retention rates
Comprehensive reporting tools
Better customer service stats
2. Faster Communication
There are many reasons non- profits should be doing text message marketing. Text messaging is a great way to communicate with your audience, especially for nonprofit organizations that regularly reach out to their donors. Text messages allow you to get the word out faster than ever before and give you new ways to engage with your constituents. Text message Marketing for non-profits is the fastest way to communicate with someone, and it's also the most efficient way of communicating with people who are not close by (like potential donors). Not only that, but because text messages are read and responded to on their timeline, they're an efficient way to communicate with people who have a busy schedule or who may be overseas at the time.
Text messaging can also help you get your message across in a more memorable way than email or phone calls could. If you're trying to raise money for your organization and make an urgent appeal for donations, you might want to use text messaging instead of emailing potential donors directly. This allows you to send out a message more quickly, which may be important if an emergency situation requires immediate attention.
3. Assemble Campaigns Quickly
Text message marketing is an excellent way for Non-Profit Fundraising to reach their audience quickly and efficiently. Nonprofits do not have the luxury of setting up a long-term campaign and running it for months or even years. Instead, they need to get their campaigns up and running as quickly as possible to build awareness and generate donations before the fiscal year's end.
Text message marketing allows them to do so by providing a powerful tool to help nonprofits get their campaigns off the ground in just a few weeks. Using text message marketing campaigns, nonprofits can easily assemble campaigns that will reach an audience at scale, generate donations, and spread awareness about their cause. If a nonprofit can't get a campaign up and running quickly, it doesn't have time to ensure everything is perfect before moving forward with the launch. Instead of spending days or weeks creating a killer campaign, take advantage of text message marketing by assembling campaigns quickly and efficiently. Here are some ways you can assemble campaigns quickly:
Think about what messages will resonate with your target audience. It might be hard to think about this when you start working on a campaign, but once you get into the swing of things, it will become second nature.
Use tools like SurveyMonkey or Qualaroo that make it easy to track responses and analyze them later on. This makes it easier to see which messages resonate best with your audience, so you can focus on those when creating new content for your next campaign.
4. Save Time on Admin
If you're a nonprofit, you probably have a lot of administrative tasks to do. You might be the president of your local chapter or the director of fundraising. You might also be in charge of setting up meetings, planning events, and ensuring that all the right people are in the right place at the right time. As a result, your time is valuable — and so is yours. The more work you can complete in less time, the better off you'll be as a nonprofit organization. That's why text messaging marketing is an excellent way to save time on admin tasks like scheduling meetings and organizing events:
You'll know exactly when your important contacts will reach out to you with questions or requests for help.
You'll be able to respond quickly without spending hours on the phone or email.
Your organization will look professional by using text messaging marketing tools like text messages from Churches and other Non-Profits that provide their message at no cost.
5. Easily Change Things Up and Experiment
Nonprofits benefit from the flexibility and diversity of their staff. This is a big reason for the surge in nonprofit marketing today. With so many people working for nonprofits, it's not uncommon for a small organization to have at least one person responsible for taking care of all its digital marketing needs. However, as your organization grows and evolves, there may come a time when you need to change things up or experiment with something new. For example, you may want to try out different text messages targeted toward your audience and offer them something special in return.
Wrapping Up The Top 5 Reasons Non-Profits Should Be Doing Text Message & Voicemail Broadcasting
There are many benefits to using text message marketing:
It is a cost-effective form of communication.
It can engage a wide target audience.
It makes use of channels that are already being used.
As you have seen, texting has become one of the most widely adopted means of communication. Consumers carry their cell phones everywhere they go and check them constantly. As such, it makes sense that marketers would want to tap into this channel as well.
Get 10 Free Text Message & Voicemail Drop Credits
Sign up to start your first text message or voicemail drop campaign and get 10 free credits on us!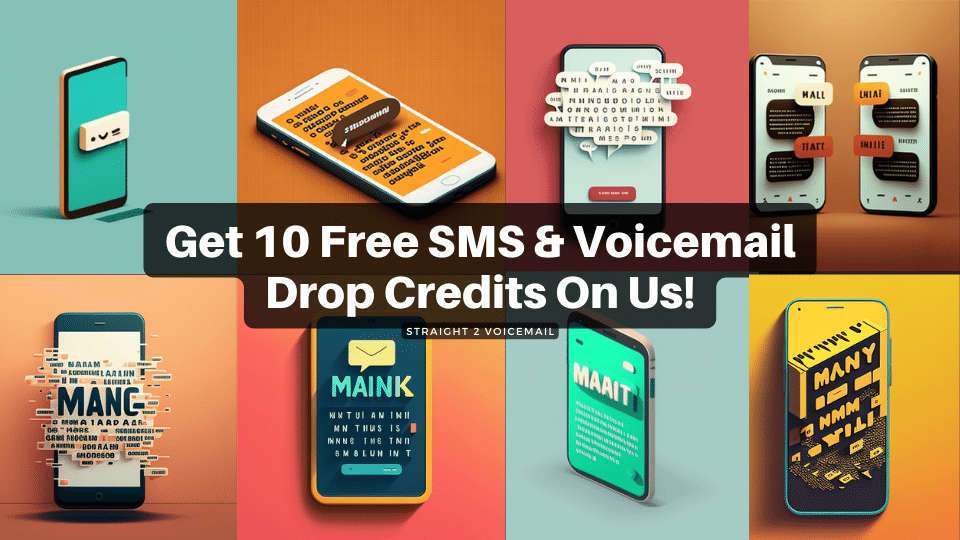 Have Questions?
On the fence about text message and voicemail drop marketing? Check out our FAQ page here.
Follow Us