So you're looking for a way to send SMS bulk messages for free. You're at the right place. With Straight2Voicemail, you can upload one number or thousands of numbers to send a text message or voicemail drop.
Whether it's a holiday promotion, customer support, a new product drop update, or anything that helps get your message heard by the masses, our SMS and Voicemail Drop software will help get your messages delivered at scale.
To start your first text message or direct-to-voicemail campaign, you can sign up here for 10 free credits.
How Do I Start Sending My First Bulk SMS Broadcast?
It's easy.
Create an account at Straight2Voicemail.
Add and verify your phone number.
Upload your list of numbers.
Type in the message or audio recording of what you want to broadcast
Press the "SEND" button.
After the delivery is complete, you will be able to see the number of successful deliveries there were.
The numbers that do not have voicemail setup or numbers with unactivated numbers will show failed deliveries which you will not be charged for with a paid plan.
With Straight2Voicemail, you're only charged for successful deliveries.
Our mission is to help business owners, salespeople, influencers, service providers, and agencies with their message delivery.
A common strategy we have seen with Straight2Voicemail users is the text message a direct-to-voicemail combo.
Here's How SMS Bulk Message Marketing Works
A user sends a voicemail drop saying "thank you" for a purchase or a request for feedback or testimonial.
After the voicemail drop is delivered, a text message is sent with a link to a call-to-action.
Sometimes, a double reminder for a lead or customer to take action is the soft touch to getting a conversion or feedback that over time could make a difference in the performance of your outreach and marketing.
The beautiful thing about SMS and Voicemail Broadcasts is that they can be completely automated with our Zapier integration.
With our Straght2Vociemail Zap, you can integrate your SMS and Voicemail drops with automation with your favorite platforms like Mailchimp, Shopify, Klaviyo, Square Space, or WordPress.
For example, to increase your reviews on Shopify or in your Amazon Store, you can automate a text message with a link to your review page a week or two after your customer has received your product or services.
Just that strategy among the dozens we have could be a complete game-changer to your project's performance.
You could also send an SMS bulk broadcast with a 24-clearance sale to get rid of lingering inventory at the end of the year.
The ideas are endless!
Automate Your Messaging
Based on user feedback from Straight2Vociemail users, SMS, and voicemail drop campaigns have on average, doubled their sales conversions, and increased life-time-value of customers by 25% while lowering missed appointments and no-call-no-shows to events.
To stay competitive, you can't just rely on email blasts if you're competition is leveraging an omnichannel approach to their marketing and messaging.
With our integrations, it can be automated so that once you set it up, you can enjoy the automated process of your promotions and announcements at scale.
Get 10 Free Voicemail Drop & SMS Bulk Credits!
Sign up to start your first SMS Bulk Broadcast and get 10 free credits on us!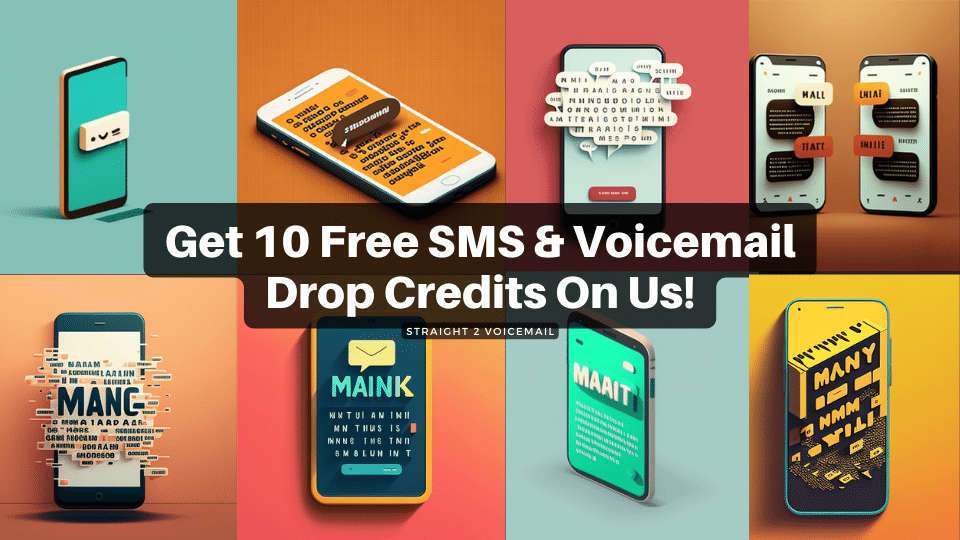 Have Questions?
If you have any questions about text message and voicemail drop marketing, we'd love to answer them. Drop us a line on our contact page or check out our FAQ page here.
Follow Us