Are you looking for used car dealership advertising ideas? Text message and voicemail marketing for car dealerships could be your answer.
More than 70% of marketing agencies believe that text message marketing is an effective strategy for marketers to get their attention. Your used car dealership company will be more likely to notice engagement and receive reactions if you communicate with clients in the manner they prefer. Aside from these three fantastic advantages, text message marketing is also affordable and simple to set up.
The sales and marketing process used to frequently involve back-and-forth phone calls and interminable email threads. It was normal, if not expected, to wait a day or two before responding to a lead. Not anymore! Today, customers expect salespeople to immediately meet them where they are. Sales teams are able to achieve this thanks to text message and voicemail marketing.
The Deal With Used Car Dealership Advertising Ideas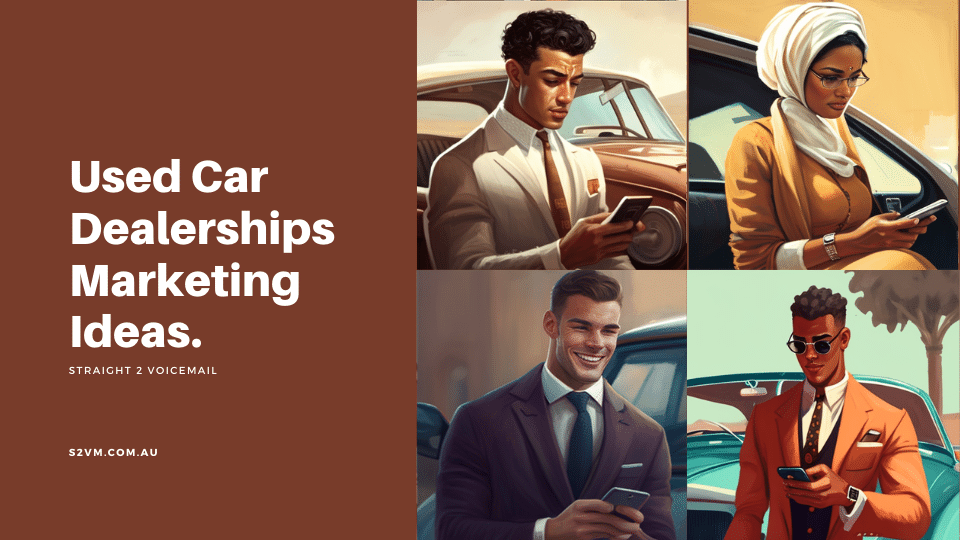 Text message marketing is becoming more popular as reaching clients has never been more difficult. Customers enjoy the convenience, while brands appreciate the 98% open rates. This enables businesses and companies to increase their base of operations and increase customer satisfaction.
In this post, we'll take you through the best practices for text message and VM marketing for car dealerships, along with tips on how to get started.
What Is Text Message Marketing?
In order to offer notifications and time-sensitive changes, Car Dealers may send promotional text messages (SMS) to tell all loyal and incoming customers about their goods and services. This method of digital marketing is also known as mass texting. Although substantially more effective, SMS marketing functions similarly to email marketing.
What Benefits Do Car Dealerships Enjoy From Using SMS Marketing?
In terms of car dealership marketing, text messaging is the ideal method to be used. It's all about establishing a setting that meets and foresees customer needs. Text messaging is the best method for accomplishing this. A couple of benefits SMS messaging can improve client experiences at your car dealership are listed below.
Increase Sales With Text and Offers
When it comes to expensive purchases like cars, it can be challenging to walk the thin line between urging and pressuring. Text messages are usually intimate enough to get attention although they also provide the space that potential clients desire during the gap between deciding and acting on the offer.
The benefit is that customers won't feel like you're constantly thinking about them. To automatically offer coupon rates to qualified consumers who might be on the fence, you can also use tools like keywords.
Infolines and Automated Customer Service
After making a purchase, about half of the car purchasers want to hear from their dealership. It might be challenging for salespersons to handle this demand for information.
You can make sure that all the necessary information is provided to your customers immediately by using tools like scheduled texts, autoresponders, and templates. Additionally, they'll be able to text you, and you'll be able to send them messages automatically without having to think about it.
No Telephone Tagging
Customers can get in touch with you at their own pleasure with Text Messaging, which is a clear advantage. Clients who are in a hurry are finding phone calls to be an increasing inconvenience. However, by allowing them to send you a fast SMS, you may cut down on time-consuming and boost your revenue collection rates.
Control Every Service
One messaging site or app may be used by all your departments because of options like multiple-user access. Maintain organization throughout your dealership from one convenient spot.
Promotions for services
When it comes to car servicing, you are up against neighborhood repair businesses in addition to rival dealerships for sales. You greatly improve the likelihood that clients will come back to you for work done out of pure convenience by automatically delivering service reminder messages and promotions to customers (scheduled out after they make a purchase).
What Does Car Dealership Text Message Marketing Look Like?
With the help of these actual examples of text messages that your dealership might send, let's put some of those advantages into perspective.
Requests for Information
When using SimpleTexting, there is no limit to how many tags you could have. It is simple to create a unique version for each brand and version of your vehicle and also for client FAQs. Create a phrase and a series of prompts, and they'll promptly answer any questions a client could have about a service or product.
Users have two options when responding to inquiries: you can manually react by signing into your portal, or you could just automate these replies. Customer information that includes specifics about the type of order they wish to do will be saved for you in any case. You can use these details later for special offers and discounts.
Messages for Scheduling And Appointments
Make appointment confirmations or reminders quickly and easily with SMS. You have the option of pre-scheduling these communications or texting a specific customer directly and in the moment. In either case, these text-based scheduling alternatives help reduce missed appointments and give you and your customers important, non-sales-related touch points.
Lead Generation for Sales
A Text Message blast is a fantastic method to generate excitement about restocked products or new arrivals. To make sure they receive the most pertinent and tailored information, you can group your members based on their stated interests and prior purchases. This way you are able to give potential clients information about the available stock and their prices.
Payment Notifications
You should make sure there is a plan to ensure the business gets payments from your customers who have financing plans on time. After all, nobody enjoys paying a late charge.
You'll benefit both parties through automated reminders via text for approaching due dates. You also give your clients time to plan for the payment procedure and make them feel comfortable.
Customer Reviews After Sales and Service
To continue providing services that draw customers back, it's critical to get consumer feedback. You give yourself a lot of alternatives to get information by sending out survey URLs via text message, creating SMS to Poll questionnaires, or asking your current subscribers.
Text Messages have a response rate that is 75% higher than email. They also get above 50% faster than traditional digital communication methods. The ideal formula for getting feedback.
Is SMS marketing Really effective?
Yes! The average text message read rate is 98%. and within three minutes, 90% of those messages are read and responded to.
Even if you have the best marketing messaging possible, algorithms in digital marketing platforms like social media will only reveal it to a small portion of your potential clients. And with emails, you might invest a lot of time on design and copy that is simply disregarded or sent to the spam bin.
Texts are the best marketing tool because of this. They are simple to send, and your audience nearly always reads them.
How Will SMS Marketing Software Work For Your Car Dealership?
SMS marketing software allows you to text many contacts at once.
After choosing your phone number, you must provide your customers or clients the opportunity to receive marketing SMS notifications. This can be accomplished by using an SMS marketing platform with keyword capabilities.
After then, you can message your contacts if they have explicitly consented to receive messages from you. Digital customer care, a common component of many business messaging systems, can be implemented through SMS marketing enabling two-way communication.
Depending on the service provider you choose, you could also be able to develop automatic away messages and drip programs, construct lists using your contacts, and monitor the success of your campaigns.
The Dos And Don'ts In Text Message Marketing For Used Car Dealership Advertising Ideas
Using SMS marketing for car dealerships is simple, especially if you are aware of the dangers to watch out for and avoid. The best practices for SMS marketing are covered in-depth throughout our whole guide and we can understand them better.
Do Review Your Responses
Only single-side texting is available on many SMS marketing systems. In SimpleTexting, you may control the responses as well. People would naturally assume they can reply to your messages, even if all you wish to do is send lots of texts. (SimpleTexting offers free reception of text messages by salespersons.)
Always check your account, log in, and respond to any queries that have been submitted.
Check out how 10 to 900 Contacts make advantage of texting. Customers can text in a prescription and they give shipment notifications. In the event any problems arise, agents are prepared to respond.
Do Get Express Written Permission
You're not free to start messaging people just because you have a list of their phone numbers.
You must follow the guidelines outlined by the Telephone Consumer Protection Act (TCPA) if you use SMS marketing. That entails acquiring explicit written agreement prior to sending even the smallest message.
Do Express Your Creativity
Have you ever heard a voice so many times that you grow tired of it? Your messages may experience the same thing. Maintain interest by offering a range of incentives and new seasonal coupons.
Interchange your ideas, you can even have an entertaining bit within your marketing and change to something else the week after that. Never be frightened to be creative. There is no longer a character limit of 160 for texts. You can send more content of the text by MMS, along with attachments of photographs.
Don't Forget to Add Value
Give in order to receive. If you offer customers anything worthwhile in exchange for their phone number, they will be delighted to give it to you.
Make sure to create a fantastic offer before promoting your SMS marketing campaign so that people will be interested. It doesn't need to be difficult.
Don't Send SMS Too Frequently
Don't misuse your SMS. People won't mind receiving many emails every week; they simply ignore or filter them. Alternatively, most brands probably just need one SMS message every week. This is not a firm guideline.
Setting expectations is crucial. Clients need to get information on how frequently they may communicate with you when they sign up to receive your texts.
Don't Be Too Spammy
Consider whether your SMS counterpart actually sounds human before sending an SMS. Customers are considerably positive about your communication if the answer is yes.
If, however, your message reads, "Do U desire HUGE savings? therefore it's highly negative and hard for clients to deal with you if you say "Shop now!!!
So What Happens To Email Marketing?
Should you cease sending emails in light of the foregoing? No. Even while we are enthusiasts of text marketing, we don't believe you should ignore all other forms of advertising.
This is so that text messaging may seamlessly integrate with or enhance your existing marketing channels. Especially in the case of email marketing.
Many business owners and marketers are concerned that this competition may lessen the value of each of these channels individually.
The opposite occurs, and we've seen businesses improve coupon redemptions significantly by combining SMS and email. This is due to the fact that motivating someone to act involves communication through a variety of channels.
SMS-based Customer Service
SMS marketing can also be used for typical customer service responsibilities. Create personal connections with customers and effectively resolve issues by:
Appointment management and scheduling to decrease no-shows.
Letting customers know if there might be problems with their order, like a delivery delay.
Addressing their main inquiries regarding your goods or services.
By enabling continuous interactions with multiple people at once, unlike calls, text messaging also frees up time for your team. After moving to SMS for its customer support activities, the team at A-1 Self Storage was able to collect payments more rapidly and close more deals.
Time is money in the end. Your company spends $16 on average for each phone call, while SMS prices range from as little as 3 cents per message. You can learn more about our pricing when you sign up for a free account. Savings like that allow you to fund different parts of your company.
Wrap-Up On Car Dealership Advertising Ideas
When it comes to executing effective used car dealership advertising ideas, it comes down to using SMS and voicemail to increase foot traffic and inquiries.
A number of companies are starting to recognize the significant benefits of SMS marketing. Top-selling real estate agents, expanding churches, prosperous e-commerce businesses, and everyone in between use it.
SMS remains one of the most underused marketing platforms despite its widespread use. For businesses that are prepared to give it a shot, there are significant benefits. Never before has there been a greater time to start than right now.
Get 10 Free Text Message & Voicemail Drop Credits
Sign up to start your first text message or voicemail drop campaign and get 10 free credits on us!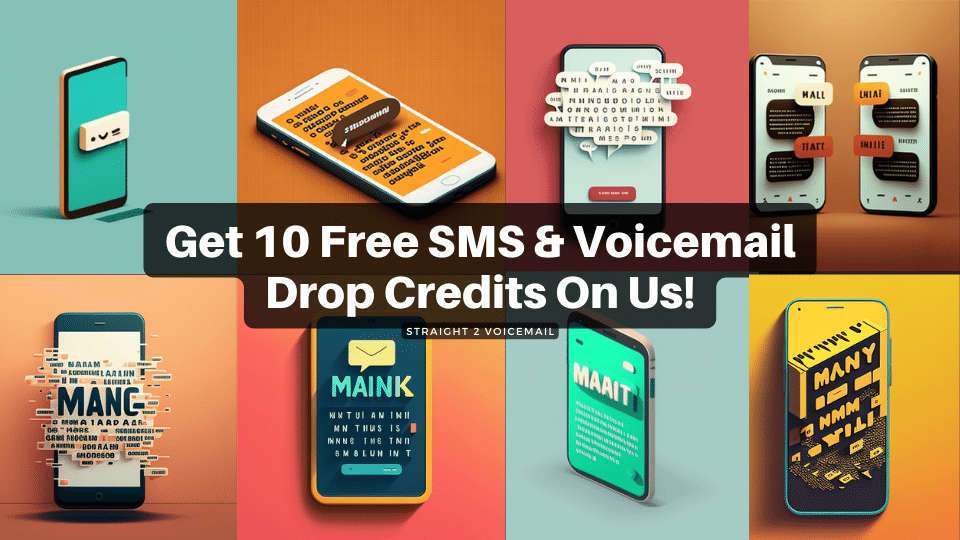 Have Questions?
On the fence about text message and voicemail drop marketing? Check out our FAQ page here.
Follow Us