"Limited one-time 10% discount on braces" is a sentence that would catch your attention if you were looking for a dental clinic to fix your teeth. You would want to know more and probably schedule an informational appointment with the doctor. This strategy is one of many ways we help owners who want to learn how to market a dental practice with text messaging & voicemail drops.
That's what text messages and voicemails do. Unfortunately, people think that SMS and VM Marketing is outdated. The stats don't lie. It's the complete opposite.
The truth is that SMS and VM marketing strategies still has the best results. Many reasons underlie this statement, one of them being that everyone owns and uses a smartphone.
Flat out, SMS and Voicemails outperforms email.
Why? Because people "check" their emails, but "read" their text messages and "listen" to voicemails.
This post will review why sending text messages is good for your clinic and how to implement them.
Make Your Clinic Stand Out
In this era of competition and businesses, you ought to stand out and differentiate your dental clinic from competitors. But how can one do it?
Besides offering the best dental services to build customer loyalty, you need to keep clients updated and send them appointment reminders as well as prompt promotions.
Why SMS Marketing?
As a dental professional, why does your company need SMS and VM marketing services? Why can't you just phone or email the patients?
Because text messages and VMs have a higher open and engagement rate.
Tech is Everywhere
These days, everyone owns a smartphone with a steady Internet connection and coverage. And these devices come with push-up notifications, meaning your clients will receive and read your text messages within a few minutes or hours after you send them.
The statistics are crystal clear: Over 85% of people use their smartphones to purchase products and services, and SMS texts have an over 90% opening rate, sometimes as high as 98%. Most messages are read within the first three minutes. That means that your texts will have the visibility you need.
No More Missed Appointments
Everyone has missed an appointment at least once in their lives. Surveys conducted show that people think an SMS would have helped. Less than 25% of users claim to prefer to receive an email or phone call as a reminder.
Your dental clinic time is precious, and you can't afford to miss appointments and have long waiting queues. Besides losing revenue with these missed meetings, patients sometimes will be unable to schedule another appointment until another week or month. These impacts the revenue of dental practices.
Reminders help avoid these issues by automatically sending text messages one or two days before the meeting. You'd be surprised by how many people read the SMS and think: "Phew, I almost missed that."
SMS Marketing Outperforms Other Strategies
As already mentioned, the data is clear on this one. Emails often go straight to the spam folder, and most people don't answer phone calls because they are too busy at the moment.
On the other hand, SMS messages are often read within the first minutes of receiving them. Customers are used to text messages being a priority, a reminder, or an announcement coming from a reputable source like their bank or personal doctor.
According to data, email open rates dropped to 21.3% in 2020. Not to mention how easy it is to mark your email as spam, which harms your reputation and increases the risk of heading straight into the bin or spam folders of other users.
Promos & Discounts
Everyone appreciates a good discount or promotion. But chances are the discount has already expired by the time the patient has checked the email.
SMS texts, on the other hand, don't count with this problem. Make sure to initiate your text with a catchy sentence like: "A limited one-time 10% discount on braces" or other dental services you provide.
Not only does this catch the reader's attention, but it urges them to act and make a call.
It Can Boost your Local SEO
For those who don't know, SEO stands for Search Engine Optimization. It helps your business and website appear in the top results when someone makes a query on search engines like Google.
SEO is particularly important for local or "near me" businesses. If someone searches for dental clinics near them, you might appear if your ranking is connected to SMS in-bound links that drive relevant traffic to questions they may have.
One factor that influences and improves your rank is positive reviews from customers. Most satisfied patients will leave a positive review on your Google business profile if you ask them to do so. Since people read their text messages, asking them to leave an honest review will help with social proofing your services.
Over time, when you have enough positive reviews, your site will appear at the top of Google. That will lead to more conversions and revenue for you.
SMS Marketing Strategies & Tips
Once you have decided to implement and automate text messages for your medical business, here are some additional tips that can help boost your clinic even more.
1) Automate Reminders & Tests Results
With our software, you can automate reminders based on the patient's meetings. You can choose whether to send them one or two days before the appointment or even a week before.
Remember that setting automatic reminders will decrease your no-show-up rate, which will help with monthly and annual revenue of your practice.
On the other hand, receiving test results after they are ready is very appealing for patients. That way, they don't have to constantly check the updates. They have the peace of mind that they will receive reutls as soon as they are available!
2) Ask for Feedback
Do you remember what we discussed about SEO and positive reviews? Clients are often willing to give a review or criticize something your clinic did wrong, not to mention that 80% of users trust online reviews.
You can directly ask them for feedback and constructive criticism. Try not to ask questions that are too general or broad, as that will put them off.
Instead, ask them to rate your services 1-10 and say something they liked and something they didn't like. You can also send specific questions for them to answer, such as:
What did you think of our waiting room? Do you think we can improve it?
Did you have to wait too long after you got to the establishment?
How would you rate on a 1-10 scale the [insert doctor's name] treatment?
It relieves the need to think of a thorough answer and boosts the reply rate. Once you have the patients' responses, you can work on improving the things you did wrong.
3) Conduct A/B Testing
A/B testing means that you try two different strategies and determine which one works best. For example, say that you offer a 2×1 promotion on a cavities treatment, but you are not sure which message to send.
You can randomly separate your clients into two groups and send each one a different text.
"Get your second dental filling for free. Limited promotion. Schedule an appointment now!"
"You never know you have cavities until it's too late. Get a checkup and a 2×1 dental filling promotion. Schedule an appointment now!"
You don't know which one will work best, but that's where data comes in. The world is driven by data, easy to collect and analyze.
How many people in group 1 scheduled an appointment or asked for further information in comparison to group 2? Which group led to more conversions and revenue?
Eventually, you will learn what patients appreciate in your clinic and what they don't like. You can use this valuable information to improve your services and get a better reputation.
Dental Practice Marketing SMS Strategy Example
Michael runs a dental clinic, though he isn't earning as much revenue as he initially thought he would. He has tried everything, but nothing seems to work.
His doctors and hygienists are top-tier, he has an appealing website, and his reviews are pretty decent on Google. What else can his business do?
There are two main things Michael can do:
Employ part of the overall budget to hire marketing services and bring more patients to the clinic.
Introduce a good communication channel so he can reach patients and vice versa. He can now send special offers and announcements, and the clients can also contact him should they need something.
After a few months of implementing automated reminders, test results, and limited promotions, he notices a significant increase in patient satisfaction. As a result, customer loyalty also skyrockets, and now he doesn't have to spend much money and effort trying to retain the patients.
Now, his dental clinic can put money, time, and effort into other things that truly matter, such as providing the best dental services in town.
Outro – How To Market a Dental Practice With Text Messaging & Voicemail
In conclusion, we can summarize the reasons for implementing an SMS and VM marketing strategy in one sentence: People check their emails but read their text messages.
Next time you wonder what communication channel you should use to reach customers and patients, this is it. Forget about emails, which are often spammy and pushy, and phone calls, as most clients don't have time to answer them. Automated SMS texts are the way to go.
Are you ready to upgrade your dental clinic with text message and voicemail drop marketing? Let's chat!
Get 10 Free Text Message & Voicemail Drop Credits
Sign up to start your first text message or voicemail drop campaign and get 10 free credits on us!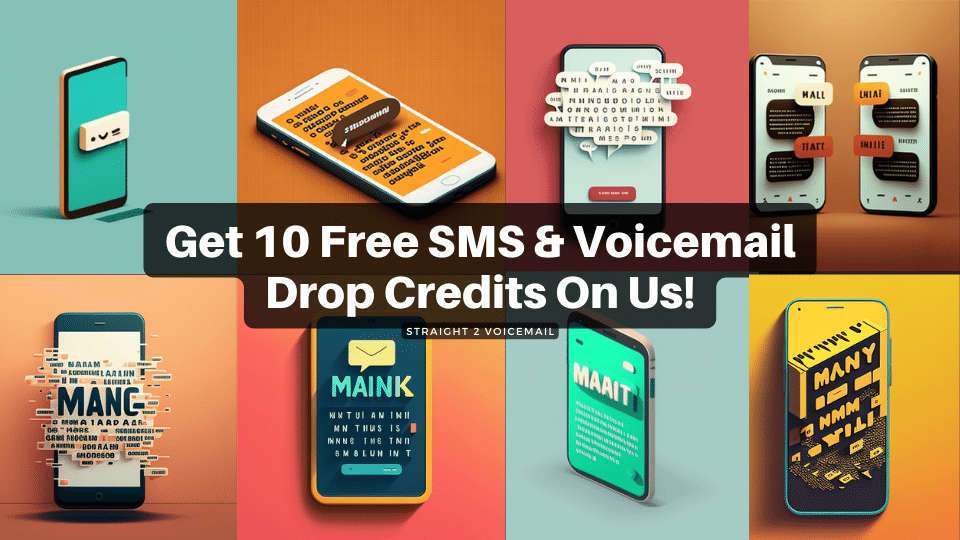 Have Questions About How To Market a Dental Practice With Text Messaging & Voicemail?
We'd love to hear from you. Shoot us a message or check out our FAQ page here.
Follow Us